All Creatures Animal Clinic Promotions
Thank you for visiting the All Creatures Animal Clinic website. Check regularly for our latest special promotions for your furry friend. For more information on what specials we offer view below.

Offers
We are here to make you and your pet's life easier. We have great offers and services designed just for you!
Special Offers
RECEIVE $50 OFF ALL DENTAL PROCEDURES DURING THE MONTH OF MARCH!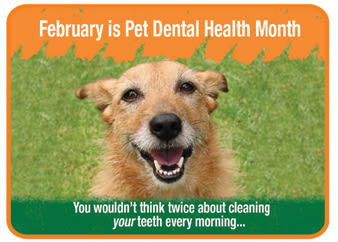 Due to high demand, we've extended our dental special into March!
If your pet's bad breath makes them positively un-kissable, it's time schedule their yearly checkup today. It's that time of year again. About love, hugs, kisses and chocolate. And when it comes to your pet, 3 out of 4 of those come out way on top! (Chocolate is a no-no, but you already knew that!)
What if your pet's bad breath makes them positively un-kissable? Bad breath may mean there is an issue with your pet's teeth and gums. But it may also be a sign of a more serious medical condition. Either way, if dental conditions are left untreated, you may put your pet at risk for problems in their mouth (periodontitis) or with internal organs (heart disease). The challenge most pet owners face is that even if their pet's breath smells fine, some dental conditions are hard to spot. Keeping your pet healthy from toe to tooth shows the world how much you love them.
What is the best way to keep your pet in tiptop shape? Schedule your pet's yearly checkup with us. We'll do a thorough checkup, including a dental exam, to make sure your pet is at optimum health. We're committed to your pet's well being every step of the way. Because we love them too! Book their appointment today!